Membership
Join the Wilson Creek PTO Today!
Supporting the PTO will allow us to help create a healthy and safe environment for our students, teachers and staff. Specifically, supporting programs such as:
Teacher Classroom Grants and Teacher Appreciation Activities
Enhanced Virtual Learning
School Agendas
Family Events
Beautifying the school
5th Grade Finale
Typically, we spend $80+per child/per year
100% of your support stays at WCES!
Pay by Credit Card

OR
Download the membership form and pay by cash or check: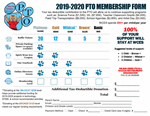 Thank you for your generous donation!